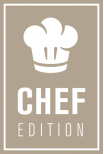 OUTDOORCHEF Grills
The entire collection of OUTDOORCHEF grills is based on Swiss innovation.
Gas grilling models with no fat burning but keeping the authentic grilling taste are the Swiss brand highlight
Charcoal grill models for traditional flavor traders provide the satisfaction and the OUTDOORCHEF electric grilling patterns are internationally recognized for efficiency and reliability. Discover the full range of OUTDOORCHEF - Swiss Grill Innovation.
Refine Search
Showing 1 to 46 of 46 (1 Pages)